Allez, je vous livre ici la lettre d'information que je reçois régulièrement de la part de C. Stiftelsen, ah ! si la couronne norvégienne n'était pas aussi élevée… Tout comme la figure de proue du navire, je pourrais porter mon regard vers Sainte Lucie et faire une nouvelle escale aux Açores, histoire de remonter le temps…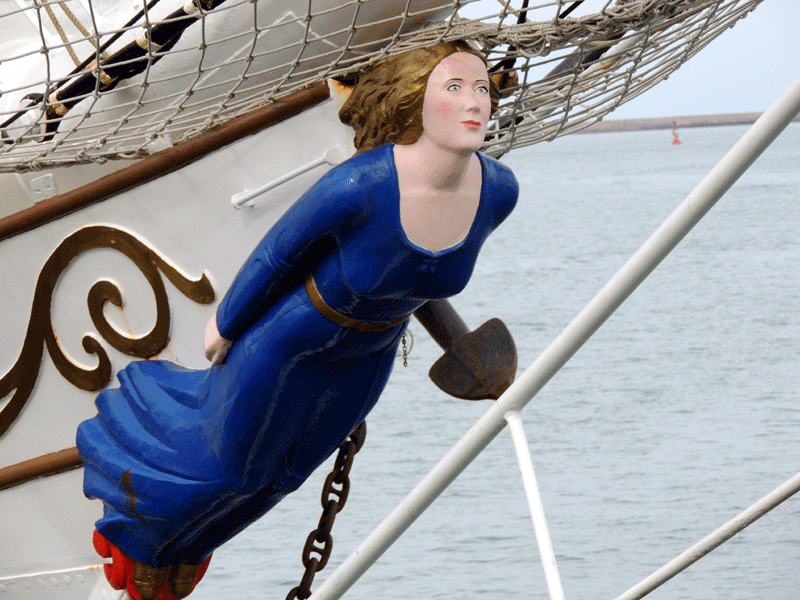 ~ September 5, 2012 ~

Many dream of crossing the Atlantic like the great historic explorers. Now, you have the opportunity to join a remarkable experience – designed to make dreams come true and create memories for life. This autumn, the world's most famous tall ship Christian Radich will sail across the Atlantic with dedicated and enthusiastic trainees, eager to experience something extraordinary. Ten years have passed since Christian Radich last crossed the Atlantic Ocean. This upcoming journey will be an unforgettable and safe experience for the trainees and crew. Starting from Las Palmas on November 25th, Christian Radich will follow the famous regatta ARC (Atlantic Rally for Cruisers), without participating in the race directly, but rather enjoying and taking in the ARC atmosphere.

Las Palmas - St. Lucia, departure Nov. 25

During this time of year, one often experience favourable weather conditions - easing the passage across the Atlantic. The destination is set for the Caribbean islands and the journey is approximately 2700 nautical miles. Trainees will work together in teams, creating a good atmosphere onboard and the unique opportunity to get friends for life. After 2-3 weeks, St. Lucia is reached and trainees will have the opportunity to stay on board and enjoy the archipelago's unique climate and atmosphere. The journey provides a good opportunity to stay behind after finishing the first leg.

Virgin Island - the Azores, departure Jan. 6

After enjoying tropical weather, Christian Radich will continue back from the Virgin Islands to the Azores on January 6th. Taking advantage of the best possible weather conditions, the course is set towards Bermuda to catch the western winds. For many trainees, the voyage eastwards is looked upon as the most prestigious – not many have crossed the Atlantic this way. The route is not particularly demanding, and many prefer the eastern crossing. On this leg, Christian Radich is joined by Mr. Ragnar Kvam jr, who has sailed across the world numerous times. We are eager to hear his stories and to learn some secret sailing tips from him!

Practicalities

The ship can accommodate 80 trainees – everyone can sail with Christian Radich – and they do! Each trainee is assigned to one of three watch teams which have 4 hours on duty and 8 hours off - both day and night. Among the duties are lookout, fire-and safety patrols, sail manoeuvres and steering - all performed under professional supervision. The sail manoeuvres can be demanding, but spectacular. Entering the rig is the ultimate event to many, but it is not mandatory.

The trainees sleep in hammocks or bunk beds in two comfortable, air-conditioned dormitories below deck. The ship has modern shower facilities and serves three excellent meals per day. A small slope chest is also available where souvenirs, toiletries and snacks can be purchased. Appropriate clothing is necessary, including rainwear and warm and windproof clothes. Further information regarding what to bring along will be sent out with the trainee handbook after registration.

The age limit is 18 years (on departure date), or 15 years if travelling together with parents. If you are over 70 years of age, we need a health certificate from your doctor. You must be healthy enough to participate in the work on board.

Prices

Route                                     Departure                                Arrival                                         Price

1 Las Palmas – St. Lucia November 25th 10:00         December 15th 12:00               2500 €/3100 USD

2 Virgin Islands - Azores January 6th 12:00               February 1st 08:00                  1980 €/2450 USD

Check-in on board the night before departure, this night is included.

Extra night on board including breakfast:

Maximum 2 nights before leg 1 or after leg 2 : 55 €/70 USD per night

Extra night on board including full board: 70 €/85 USD per night

After leg 1: until Jan 4th and before leg 2: from December 22nd

In this period Christian Radich will sail in the Caribbean and you can fly home:

December 15-18th: In the area around St. Lucia

December 22- 27th: In the area around Antigua

January 3-5th: In the area around St. Thomas, US Virgin Islands

Changes in arrival and departure times may occur. Please consider this when booking flights.

Discounts:

Youth:15 - 25 years on departure day: 20%

Family: Minimum 3 persons from the same household: 15%

Maximum 1 type of discount per person.

Remember to check visa and passport regulations applicable for your country.

About Christian Radich

Christian Radich is one of the world's most famous sailing ships. She was built in 1937 and is celebrating her 75th anniversary in 2012. A professional, permanent crew of 15-20 people will introduce you to life on board the ship and make you familiar with 1360 m2 of sails and 9.000 meters of rope. They will also supervise you at sea in order to make your stay on board Norway's most magnificent sailing ship a safe and unique experience.

Join Christian Radich on her Atlantic crossing to the Caribbean – and create memories for life!